Leaded windows are built for durability and longevity, and can often last 100 years or more without needing any restoration. But with the best care in the world, accidents will happen, vandalism, the elements, or building structural movement, will all tell their toll eventually. My aim is to preserve stained glass windows for the enjoyment of future generations. I provide a high level of care, sensitivity and workmanship so that the integrity of the original window is maintained.
For windows of historical importance, I work by the principles of good conservation: that all work should be of minimum intervention (ie do as little restoration as is necessary), that all work can be reversed at a future date (ie by doing no harm to the intrinsic window through poor workmanship or materials) and that any replacements are appropriate, sympathetic and recorded for future reference. With this in mind, I have worked on the restoration of several church windows in Sussex and I have a growing reputation and client base.
Glass breakages It is possible to replace broken glass with the window panel remaining in situ, at a very reasonable price. All replacement glass will be carefully chosen to match seamlessly with the original. Broken enamelled glass can either be adhered together using conservation grade adhesives, or replaced with a faithfully reproduced hand painted, stained and kiln fired replica. As a general guide, if any lead work is also fatigued or broken, the panel will have to be removed for restoration in the workshop.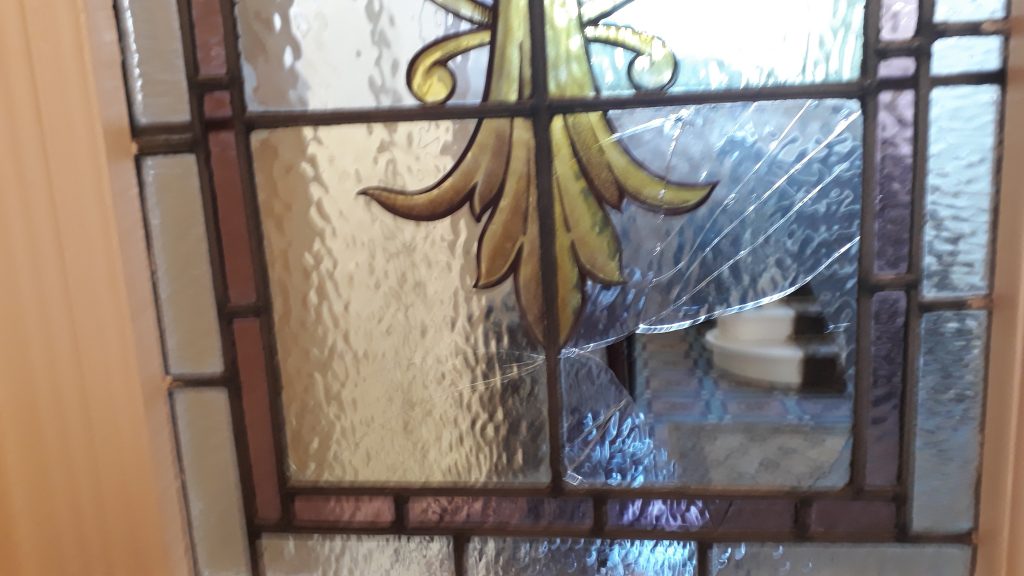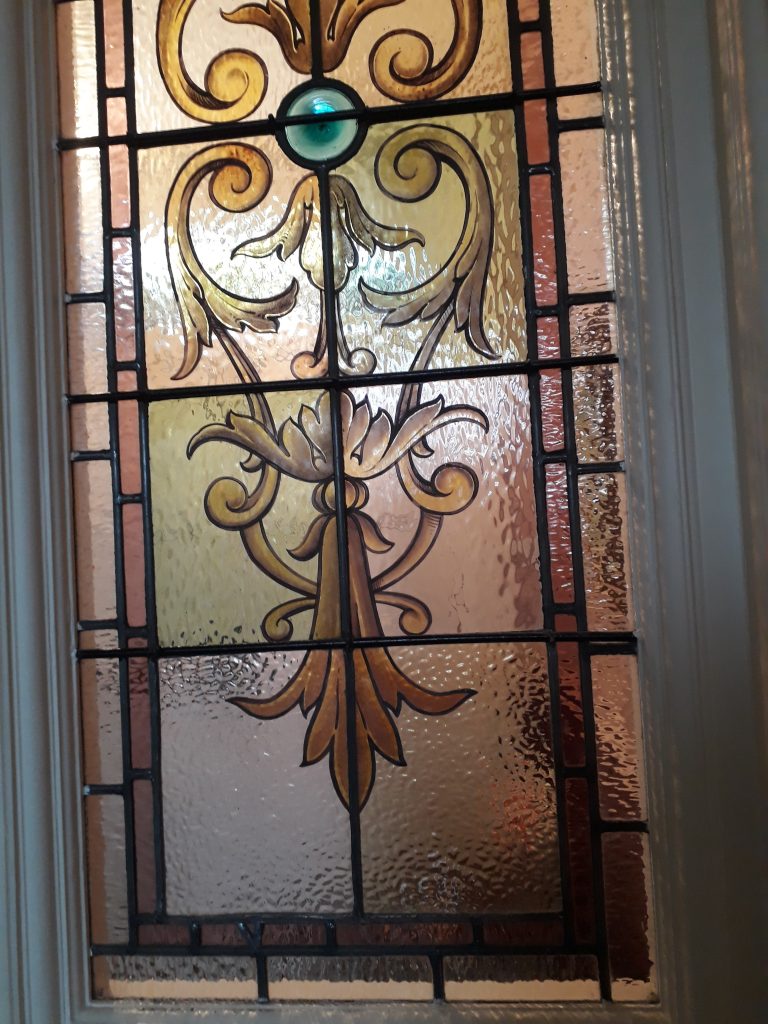 St Laurence Church, Catsfield – a restoration story Full restoration of the Victorian stained glass windows started with Phase 1 in 2019. The Thomas Brassey window 1870 had corroded iron support bars, unstable paint work caused by condensation, numerous cracked pieces of glass, and air gaps throughout the window due to weathered lead cement and poor original workmanship. It was possible to rectify all of the issues with the window in situ, as the original lead matrix was in good condition. Close liaison with the stonemason ensured work was done timely and avoiding any unforeseen issues. New corrosion-proof phosphor bronze bars were installed, the window was very carefully cleaned whilst preserving the existing paint work, cracks were sympathetically dealt with using edge bonding and other traditional reversible techniques.
Phase 2 commenced March 2020 (the week before Covid lockdown) with the removal of the three lancet windows of the East Chancel window by James Powell 1853. I had a team of two additional stained glass professionals with over 30yrs experience to help me remove the windows. The apertures were boarded up with polycarbonate to allow light into the church during the restoration period. Luckily, therefore, I had the windows at my studio to work on throughout lockdown. The windows had many breakages that were rectified by edge bonding, or if beyond repair, were replaced with sand blasted, hand painted, stained glass quarries that blended in seamlessly. The windows on the interior (painted) facade were totally covered in a cement mortar film left by previous restorers, which resulted in significantly reducing light transmittance, poor readability of the picture, and was in danger of ruining the paint work on the glass. So very careful cleaning was required, using deionised water, and fibreglass tools. The damaged lead was replaced using specially milled wide heart cames to match the original profile.